VITAMINOVA Z-MAX - 60 caps.
ZMA + GABA + melatonin
PLN45.00
VITAMINOVA Z-MAX is a dietary supplement in the form of capsules, which has a formula based on the popular ZMA blend (zinc, magnesium, vitamin B6), valued among people who want to improve the quality of sleep. The product's composition also includes ingredients as melatonin, which reduces the time of falling asleep, as well as l-tryptophan and gamma-aminobutyric acid (GABA).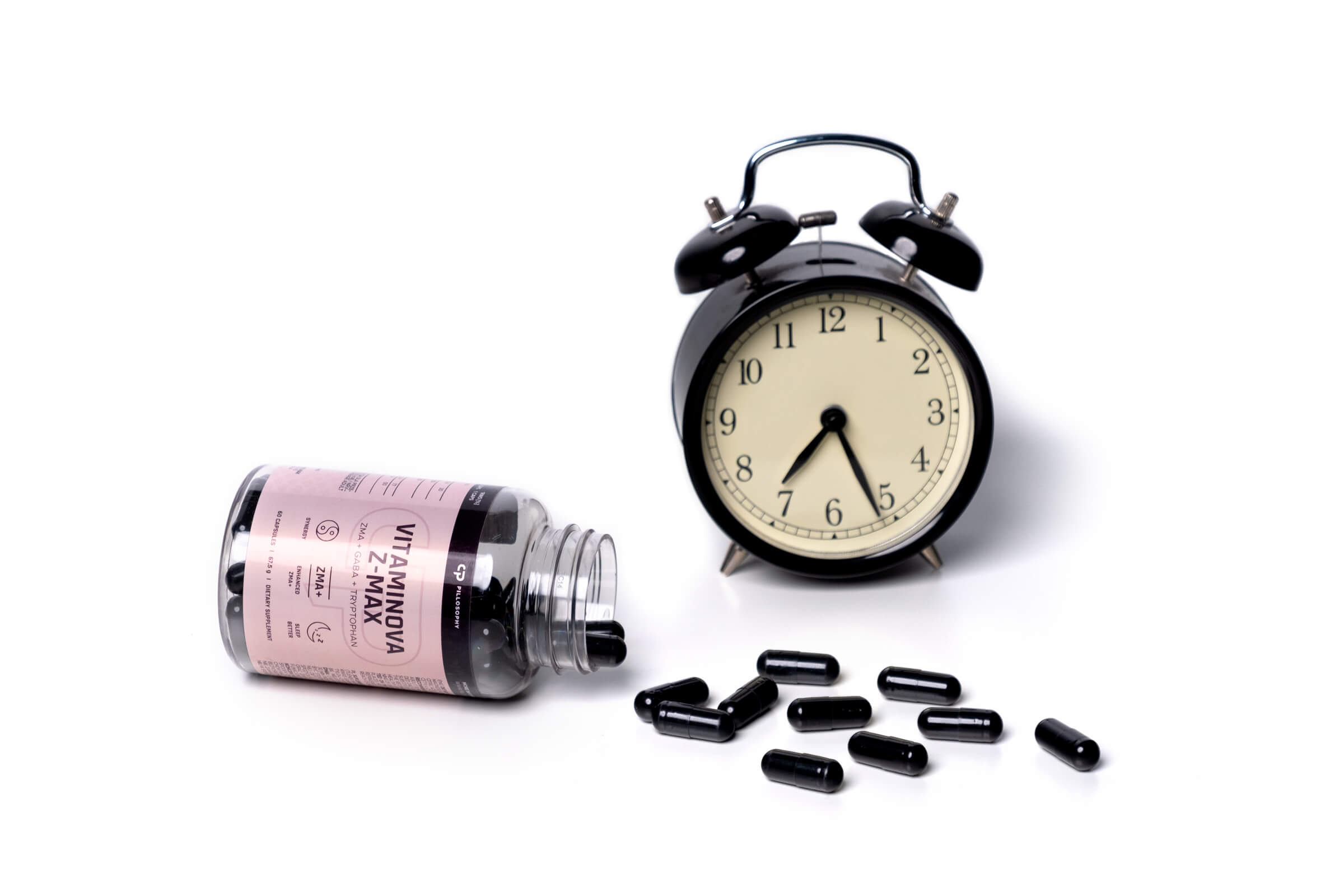 1. How does VITAMINOVA Z-MAX work?

VITAMINOVA Z-MAX is a dietary supplement whose composition is based on a standard ZMA blend (zinc, magnesium, vitamin B6). Our product has been additionally enriched with melatonin, gamma-aminobutyric acid and l-tryptophan. Why? To relax better after training. The action of the individual components works together in a synergistic way, affecting the body's functions.

Magnesium citrate - magnesium salt of citric acid. Magnesium acts as a mild sedative that helps the body relax. It can support deep sleep and lower cortisol levels at night. It is an essential mineral in the diet, another of the most common in the human body. Magnesium deficiencies increase blood pressure, reduce glucose tolerance, and can cause general nervous excitation. Maintaining normal magnesium levels has a positive effect on the negative effects of stress and depression. Excess magnesium in the digestive tract can cause diarrhea and gastrointestinal upset.

GABA - more specifically, γ-aminobutyric acid is a neurotransmitter that acts as a glutamate antagonist. It is also a neuramine, which relaxes the brain. GABA is an autoregulator because it has the ability to block the transport of doses exceeding the norm. In addition, when the GABA level is too high, the brain can defend itself against its excess. It seems that in adults, GABA in the general circulation has a very low level of absorption into the brain tissue, while in adolescents it is slightly higher, and the level of its absorption into the brain may depend on the concentration of nitric oxide in the body.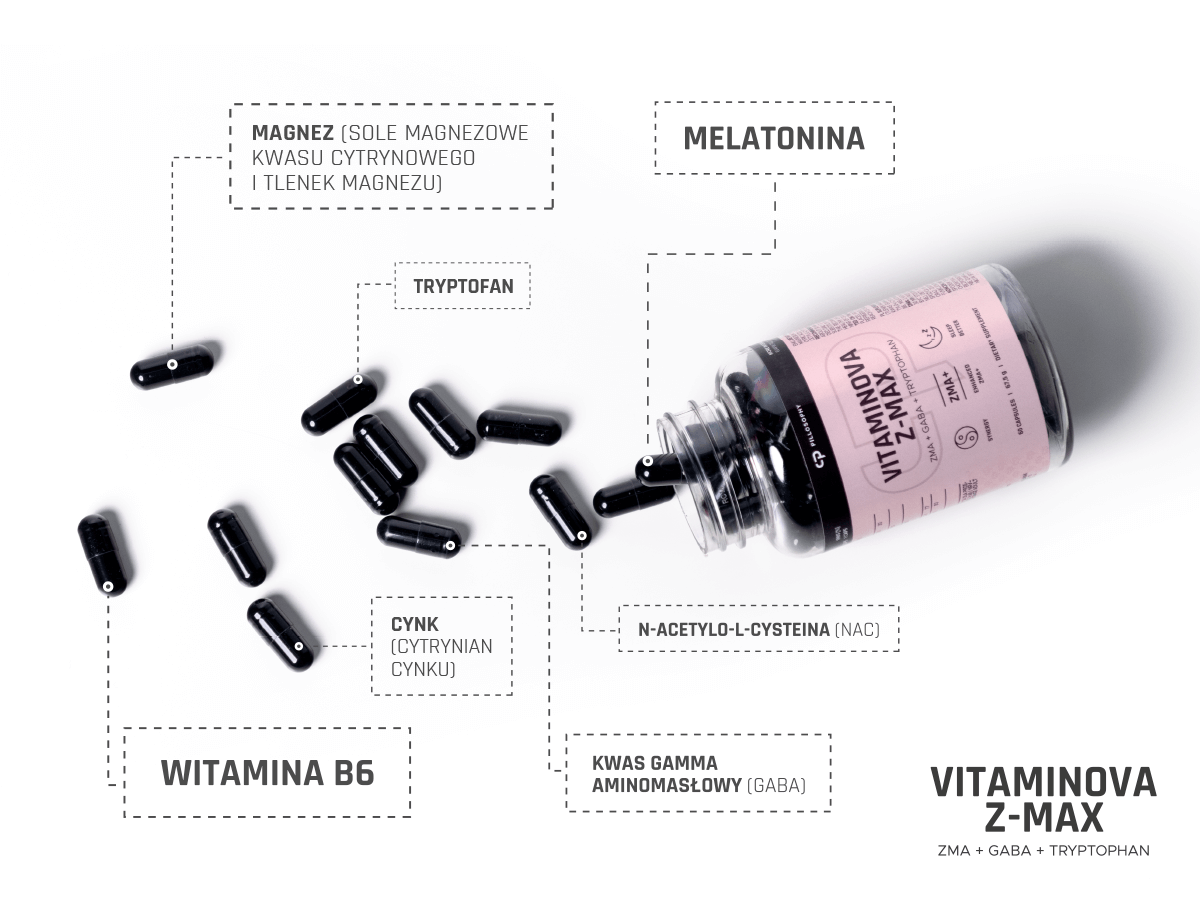 L-tryptophan - tryptophan acts as a precursor of serotonin and melatonin. Tryptophan levels can be raised in the evening to speed up falling asleep. Calcium and vitamin B6 facilitates the absorption of tryptophan.
N-acetyl-1-cysteine ​​- is a precursor of a substance that is chemically inactive until it is delivered to the body, where it will be transformed into the active substance. NAC is converted into L-cysteine, which supports the growth of glutathione in the body, and thus allows the body to increase its antioxidant capacity. It is believed that NAC may contribute to reducing lead toxicity in the human body and stimulate the level of glutathione in cells, it is also claimed that it is able to attenuate the effect of lead on the body during constant exposure to it. NAC may have a therapeutic effect in the treatment of some psychosomatic diseases as well as in the treatment of addiction. Supports liver function by reducing the toxicity of acetaminophen accumulated in it, and also helps people with acne problems.
Vitamin B6 - a vitamin used to produce collagen in the body. Vitamin B6 deficiency can lead to the appearance of cancer in the body because it supports regulation and inhibition of rapid cell growth. Deficiency Wit. b6 can reduce the amount of active dopamine in the brain. Some foods can reduce the absorption of vitamin B6 compounds. These include carrots and oranges, and processed products.

Zinc citrate - a salt of citric acid and zinc. Zinc is a mineral substance that is involved in many enzymes. It supports the action of antioxidant enzymes, participating in the development and improvement of cognitive functions, and supports the immune system and maintains a constant testosterone level. At low levels of this mineral, during acne and / or depression problems, unwanted side effects can be reduced. Overdose is not recommended and it is recommended to consult a doctor and frequent blood tests to determine the amount of zinc in the blood since its supplementation should not exceed 40 mg per day. Side effects may include nausea, copper deficiency and an overdose (tobacco-like) effect.

Melatonin - Good sleep is essential for a healthy life. Good news: melatonin can help. Melatonin is a hormone that regulates the sleep and wakefulness cycle. Taking it can reduce the time you fall asleep at night. It can also slightly improve the quality of sleep.


2. Who is VITAMINOVA Z-MAX for?
for athletes,

not only for men but also for women,

for people who have a problem with recovery after training,

for people who have problems maintaining proper sleep hygiene.
3. Is VITAMINOVA Z-MAX safe?

Yes. Using it according to the instructions on the packaging. Do not give to children and pregnant women without consulting a doctor.
Do you know that...?
The demand for zinc depends on factors such as age and sex, many daily activities, and the level of absorption affects its loss. People who should pay particular attention to zinc levels are, for example, men with high sexual activity, athletes, pregnant or breastfeeding women (as per the doctor's instructions).


Melatonin is produced not only in the pituitary gland, but also in other organs, where it performs completely different functions?


Dietary supplement should not be used as a substitute for a varied diet.
Do not exceed recommended servings for consumption during the day!
Consume immediately after preparation.
A balanced diet and healthy lifestyle are the basis for the proper functioning of the body.
Store in a cool and dry place.
Protect from direct sunlight and heat.
Do not freeze.
Store in a closed container inaccessible to children!
This product works well with: